The word 'chronology' is derived from two Greek words – chronos, meaning time and logos meaning to work out or decipher. This means that 'chronology' literally means to work out time. In order to work out time we have to give it a logical order.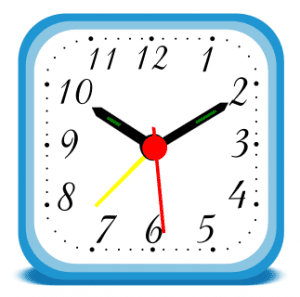 Putting time in logical order can be as simple as talking about things that happened yesterday. Similarly, making plans for tomorrow, next week or next year shows an understanding of the order of time. 
When we put a sequence of dates, years or time periods in order this is called 'chronological order'. Generally time will be ordered from the earliest time to the latest time.
A list of events placed in chronological order is called a timeline. Timelines can cover a short period of time like the events of a person's day or a longer period of time like the events of a person's life. A timeline of a period in history may cover hundreds of years.
Timeline Examples
A Timeline of a Person's Day
7 a.m. – Got up
7.30 a.m. – Had breakfast
8 a.m. – Walked to the bus stop
8.30 a.m. – Started work
11 a.m. – Coffee Break
1 p.m. – Lunch Break
3 p.m. – Tea Break
5.30 p.m. – Finished Work
6 p.m. – Arrived home
7 p.m. – Had dinner
7.30 p.m. – Watched TV
10.30 p.m. – Went to Bed
A Timeline of a Person's Life
1980 – Born
1984 – Started School
1991 – Started Secondary School
1995 – Went to College
1997 – Went to University
2002 – Began Working as a History Teacher
2005 – Got Married
2007- Had First Child
2009 – Had Second Child
2047 – Retired
2060 – Died
A Timeline of The Tudors
| | |
| --- | --- |
| 22nd August 1485 | Battle of Bosworth Field, Henry Tudor became King |
| 2nd April 1502 | Prince Arthur died |
| 22nd April 1509 | Henry VIII became King |
| 9th September 1513 | The Scots were defeated at Flodden Field |
| June 1520 | Field of the cloth of gold summit meeting with France |
| 11th October 1521 | Henry VIII made 'Defender of the Faith' by the Pope |
| Spring 1527 | Henry VIII's divorce crisis began |
| 23rd March 1534 | Henry VIII became Head of the Church in England |
| 8th June 1536 | Dissolution of the monasteries began |
| 19th June 1541 | Henry VIII became King of Ireland |
| 31st January 1547 | Edward VI became King |
| January 1549 | Book of Common Prayer introduced |
| 10th July 1553 | Lady Jane Grey became Queen |
| 19th July 1553 | Mary I became Queen |
| 4th February 1555 | Persecution of Protestants began |
| 17th November 1558 | Elizabeth I became Queen |
| 8th February 1587 | Mary Queen of Scots executed |
| July/August 1588 | Spanish Armada |
| 31st December 1600 | East India Company founded |
| 24th March 1603 | Elizabeth I died ending the rule of the Tudors |
Citation Information:
Heather Y Wheeler. (2020). What is a Chronology?. Available: https://www.historykeyskills.com/what-is-a-chronology/. Last accessed March 30th, 2023